SUSAN VISSER graduated from the acting school in Amsterdam in 1991 and she has been working ever since. Her first major role was in the comedy series 'In de Vlaamsche Pot'. Besides her film and TV work, she also often plays in several theater productions.
She has worked in movies such as Amazones, Richting West, Taped, Het Spel van de Wolf, Gooische Vrouwen and in TV series such as Gooische Vrouwen, Het Gordijnpaleis van Olie Hartmoed, Smeris and many more.
Guest Project:
Find out more about the exciting project: THE BUDDY FILM PROJECT. We are going to welcome on our stage actress DEWI REIJS and Syrian director ZIAD BARAZI. (pictures by Nizar Haji)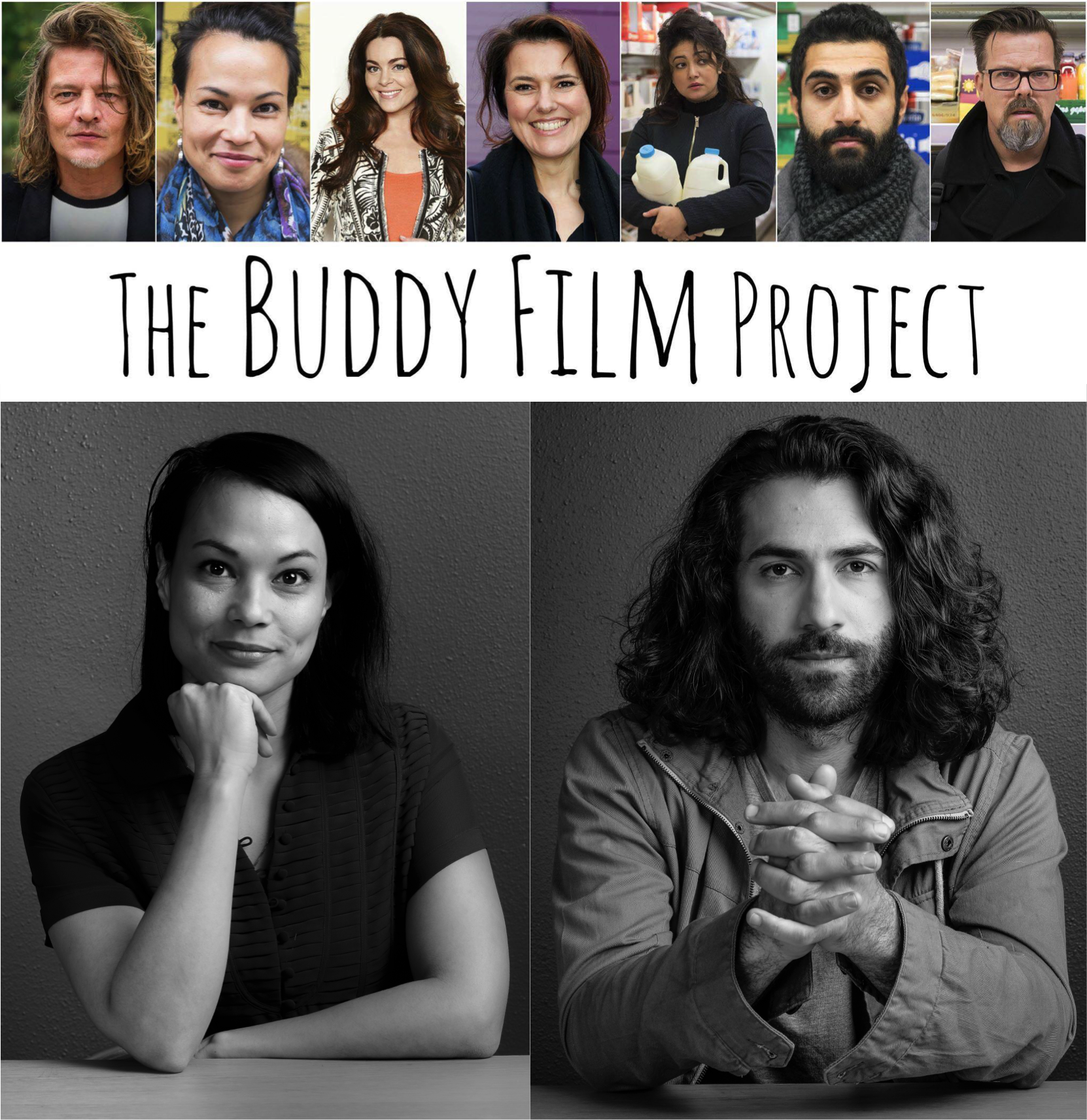 In August of 2016, the Nederlands Film Festival approached actress Dewi Reijs with the idea of starting a project with refugees that they had interviewed at the start of the year. Dewi, then, rang director Dennis Overeem and asked him if he could think of any good ideas. Dennis replied: 'Right, so why don't we make a feature film together?'. With refugee filmmakers from different countries both in front and behind the camera. (tekst eruit gehaald) Everyone responded enthusiastically and thus The Buddy Film Project was born. Dennis - with Dewi's help- immediately started organizing the official kickoff, which took place at the Dutch Film Festival 2016. The film aims to create work for refugees with a work permit and, moreover, offer payment. By participating in The Buddy Film Project, refugee filmmakers will get the opportunity to acquaint with colleagues from the Netherlands and abroad. Consequently, the refugee filmmakers will have the chance to build their own network and, hopefully, create their own work and projects in the future. Vice versa, Dutch filmmakers will learn heaps about how the film industry works in, for example, Syria and Iran. The Buddy Film Project is a win-win situation.
ZIAD BARAZI
Director Ziad Barazi from Syria is a participant of The Buddy Film Project. He worked in several countries; Romania, Dubai UAE, Saudi Arabia, Jordan, Iraq, and Lebanon. Ziad is a driven professional with over 12 years experience in TV-commercials and video production working with international clients, advertising agencies, production companies, directors and Middle Eastern celebrities.
DEWI REIJS
Dewi Evita Reijs is an actress graduated from the Academy of Fine Arts in Amsterdam. She works in theater, film, and television. She plays at Toneelgroep Amsterdam under the direction of international acclaimed director Ivo van Hove in Louis Couperus' THE SILENT FORCE and she stars in the Han van Meegeren biopic A REAL VERMEER. Besides that she works as a director and writer, her short films DEBIEL (IDIOT) and HIDE HER were selected for several international film festivals in Cannes, Dublin, Rome and New York.
In our Official Selection:
2017: A PRESS CONFERENCE

Jordi Wijnalda | Fiction | 06:55
As we see our human values threatened by populist demagogues, the barring of free speech and media, and the abuse of democracy and power, we felt the need to organize a press conference to express our concerns and anxieties to the one entity we all believe might solve everything: 2017.
RETINA

Justin Heyl | Experimental | 10:02
Almost 90 years ago Luis Buñuel and Salvador Dali made the short surrealist avant-garde film Un Chien Andalou (1929). Inspired by their associative editing, their lucid narration and dream-like style of filmmaking, this story springs from one of its most iconic and compelling scenes.